I increased user engagement of Beacon's energy data management application by 47%; I achieved this transformation by re-aligning the product's value propositions with the pain points of the company's customers and users.
I was offered the opportunity to join the product team at Beacon Power Services, a clean-tech company in Nigeria, while volunteering at the 2014 Chicago Clean Energy Trust Challenge.
In Nigeria, electricity is largely self-generated by diesel generators. I vividly remember the poor air quality I suffered while growing up in Lagos, Nigeria.
As a budding Economics major, this project gave me a chance to impact lives in Africa's most populous country, while developing deep understanding of the economics of renewable energy generation in West Africa.
The company launched the Beacon Monitor to visualize energy consumption data collected from sensors installed at our client's facilities: advanced analytics provided our clients insights for energy cost savings.
The product was developed without in-depth user research or proto-personas. It was simply the brainchild of the CEO and COO, both of whom had collected energy data while retrofitting electrical infrastructure in client facilities. Their findings lead them to develop the product.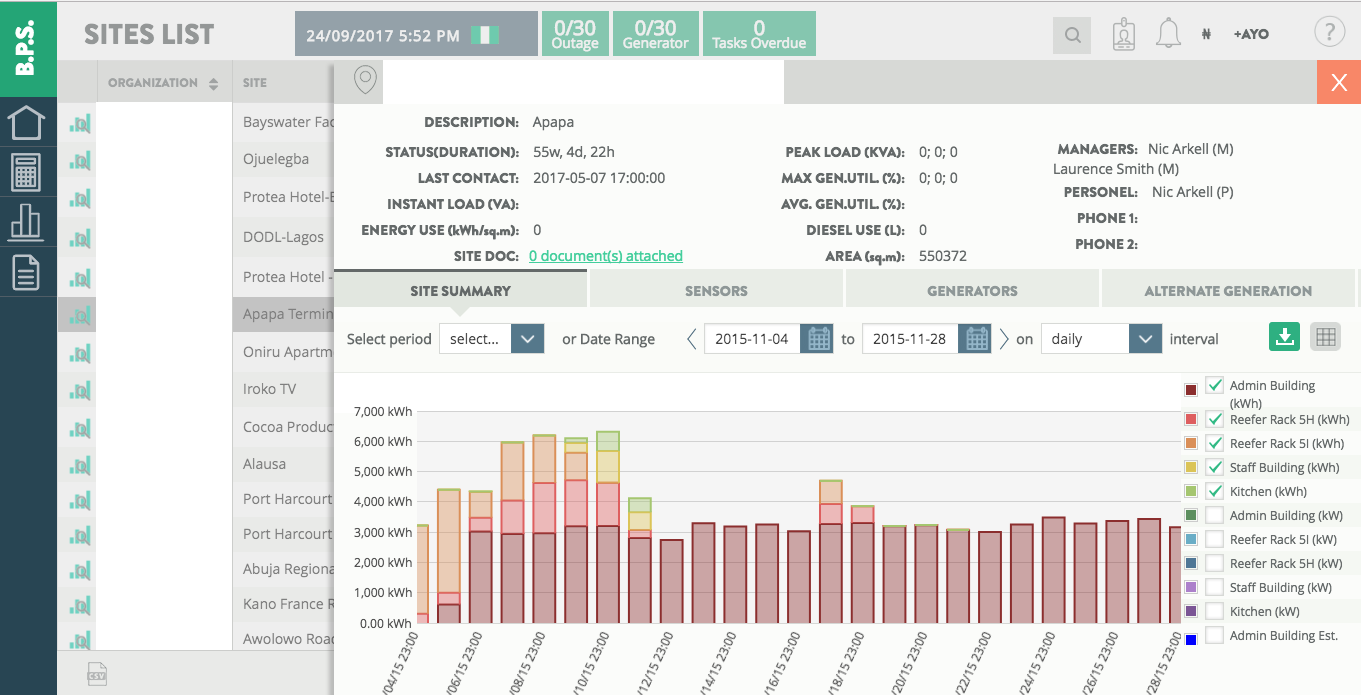 Objective
Give clients actionable cost-saving insights while reducing their carbon footprint.
Customers
Executives within organizations in the banking, hospitality, shipping, and property management sectors.
The product had low user engagement – I was brought into the product team to increase user engagement, and transform the product in order to demonstrate its core value to our customers.
I joined the product team mainly to emphasize user-centered design, employ agile methodology, and evangelize the product.
The product's road-map was not hypothesis-driven. A bulk of my work involved re-aligning the Beacon Monitor's value propositions to pain points of our customers and users, while establishing a prioritization cadence.
I was tasked with bridging the gap between our users and the development team which comprised of one data engineer, a UX engineer, and two software engineers.
I managed core expectations of key stakeholders and executives while building a more agile development roadmap for the product. In essence, my role required me to put user needs firsts, in order to deliver the most compelling user experience.
In pursuit of understanding the current state of engagement with the product, I sought to understand the product use cases, current users, and their daily activities.
I began to schedule interviews with different users in client organizations to ask them questions: firstly about their jobs, and subsequently about how they feel about the product– this would help me understand why they weren't using it.
These quick interviews enabled me to categorize users into two groups: non-technical users and technical users.
TECHNICAL USERS
They wanted the product to display granular information to be better informed about the inner workings of electrical equipment in the facilities.

They wanted features that enable them to receive real-time notifications so that they could act swiftly in case of emergency and be more effective at their work.
In interviews, members of the technical user group stressed the value for real-time email notifications and alerts. Alternatively they were reticent about features in the existing version of the Beacon Monitor that they found useful in their work.
NON-TECHNICAL USERS
They wanted the product to compare performance of different facilities to understand which facilities to review.

They also wanted the product to visualize financial information in order to easily develop forecasts
In interviews, members of the non-technical user group reported that the Beacon Monitor's current landing page did not provide them with relevant information for their jobs– they complained that the information displayed was too granular. During interviews I allowed members of this group to sketch out some data visualizations that would be useful in their work.
I prioritized increasing engagement of our non-technical users, because they were the key decision makers in their organizations, and could create the buy-in the product needed at an executive level (with our actual customers).
I led our UX engineers in designing a dashboard that gives non-technical users high-level insight to track facility energy performance and make forecasts. I also collaborated with production engineers to ship a notification feature for technical users of the product.